Meet Our Hosts
IGNIV Bangkok by Andreas Caminada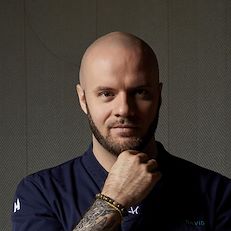 David Hartwig
Head Chef
David Hartwig
Head Chef
Swiss-born David Hartwig, new Head Chef at IGNIV Bangkok, was handpicked by IGNIV´s founding chef Andreas Caminada to bring the concept's unique joie de vivre to diners in Bangkok.
Prior to Chef Andreas's 3-Michelin-starred restaurant Schloss Schauenstein in Switzerland, the talented chef worked in the kitchens of other highly acclaimed restaurants including Maaemo (Oslo, Norway), The NoMad Hotel (New York, USA), Wallsé (New York, USA) and Hotel Paradies (Ftan, Switzerland).
"A meal at IGNIV is like visiting friends - friends who want you to experience the best time and make you feel at home. At IGNIV Bangkok, guests can expect a thought-through, but easy and not stuffy, full experience in terms of choice of dishes, cooking techniques products, flavor profile and balance of seasoning. The use of fresh and top-quality ingredients is very important to me and Bangkok has many fresh ingredients to choose from," said David Hartwig, Head Chef at IGNIV Bangkok by Andreas Caminada.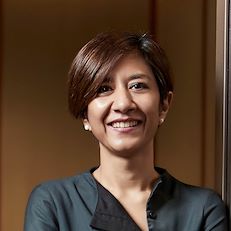 Regina D'Souza
Restaurant Manager
Regina D'Souza
Restaurant Manager
In charge of managing and overseeing the entire restaurant operation as Restaurant Manager is Thai-born Regina D'Souza, known to her friends and colleagues as "Gina". The F&B professional joins IGNIV Bangkok from The Workshop 211, a community she founded in 2019 to provide workshops and promote an organic food and drinks lifestyle. Before that, Gina was with Etihad Airways, where she led the business class team as In-flight F&B Manager.
Gina brings with her 20 years of F&B experience, of which over half were in hotels in the Maldives and across Thailand, including in Bangkok, Phuket, Koh Samui, Pattaya, and Chiang Rai. Her passion and positivity have seen her chosen to join several pre- and opening teams, including at The St. Regis Bangkok from 2010 - 2011.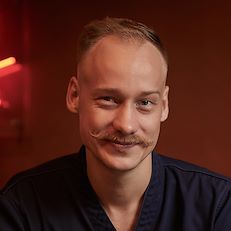 Arne Riehn
Sous Chef & Pastry Chef
Arne Riehn
Sous Chef & Pastry Chef
German-born Chef Arne Riehn was personally selected by IGNIV founder Andreas Caminada as Sous Chef and Pastry Chef for IGNIV Bangkok. In his dual role, Chef Arne assists in all aspects of planning and managing the kitchen, and is in charge of the signature IGNIV Candy Store.
Chef Arne joins IGNIV Bangkok from Andreas Caminada's team in Fürstenau, Switzerland, where he was responsible for the organic wood-fired stone oven bakery and its fine selection of handcrafted artisan breads. Being a professionally trained baker and confectioner, Arne has gained wide experiences as pastry chef in acclaimed restaurants - including 3-Michelin-starred Vendôme in Germany. In 2018, he was chosen as the first Uccelin Scholar by Fundaziun Uccelin, a foundation initiated by Andreas Caminada which fosters promising chefs and service talents with individually composed training units at the world's best restaurants.